I Had the Job You All Wanted
My name is Bill Goodwin and for 25 years I was the author of three travel guidebooks to some of the world's most beautiful islands: Frommer's South Pacific, Frommer's Tahiti & French Polynesia, and Frommer's Fiji.
Which meant that I went there. A lot.
I say "was" because Google bought the Frommer's brand and all its digital content from John Wiley & Sons in 2012 and discontinued publishing Frommer's guidebooks. Later it turned the content over to Arthur Frommer, who founded the guidebooks in 1957, and his daughter, Pauline Frommer. They are now publishing some guidebooks under the Frommer's brand. But not mine.
Arthur and Pauline continue to post some of my content on their website, but none of it has been updated since 2010.
So even though the information in their pages is stale, there is one good reason to buy my books if you can find them: They may soon be collectors items.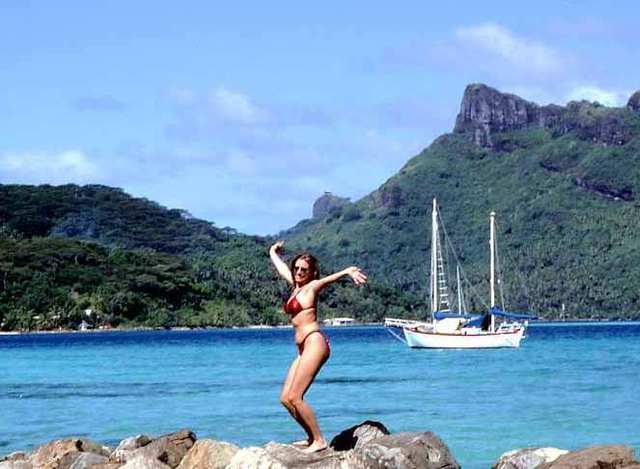 I am very proud of my books. Here is what some of my readers had to say of my work.
"I just returned from two days in Tahiti and ten days in Bora Bora. Frommer's Tahiti & French Polynesia was my constant companion. You are so in tune to the needs of the tourist and how to navigate the islands to get the most out of your vacation. Your recommendations for lodging, restaurants, and activities were right on point. I am a scuba diver and I really appreciated the information you gave me in the book. Thank you!!!!!!!!" – Dr. Lester Joern
"We traveled with your wonderful guide to the South Pacific and would very much like you to know that more than ever before the guide became our faithful companion and Mr. Goodwin a long-time friend." – Rosa Lombardi
"My wife and I recently returned from our first trip to French Polynesia. We found the Frommer's South Pacific guide an invaluable companion in planning interesting activities, determining where to dine, etc." – Lawrence Walz
"I purchased your book, Frommer's Tahiti & French Polynesia, as a guide to plan a recent trip to Moorea and Bora Bora. We are very grateful for the detailed information you provided and found it very helpful. We followed your advice and took the circle island tours on both islands. On Moorea, we had dinner at La Mahogany Restaurant. And you were so right about Belvédère Lookout . . .so stunningly breathtaking it brought tears to my eyes." – Patricia A Whalen
"Thank you for your book, which has just guided us happily around some Fiji islands." – Jan Fletcher
"We've found your guide books very useful on both of our trips to French Polynesia: the one to Moorea and our visit to Bora Bora and Huahine." – William Lundquist
"It is very obvious that the author of this book has actually been to the South Pacific—he is very enthusiastic about the area—and sincerely wants his readers to love it too! We have followed the books on two trips and have found the advice to be 100% accurate. I highly recommend this book—it can be trusted." – Sandra Kyle
"If you are looking for information to help you decide where to go in the South Pacific, [Frommer's South Pacific] is a great place to start. If you know you are going to a specific Island you may want to consider a book on just that Island but this is a great overview and a resource for traveling between the islands." – David Khachadoorian
"If you are traveling to French Polynesia, this is the best book we have been able to locate." – Bill A. Belt "I recently purchased Frommer's Virginia before a trip that my husband and I took to Richmond. As a long time user of another guidebook that starts with F, I was not sure how I would like the Frommer's Guide, but I have to say I loved it. I am now a convert to Frommer's!" – Allison Ariti
"Thank you very much for writing such an excellent travel guide." – Eric Stamper